16 Oct

Unusual international mural commission in Greenwich CT USA

I spent the year 2000 in New York and presented my portfolio to many interiors
designers before being lucky enough to get the attention of one of the best who
was often featured in Architectural digest, Sam Botero.

Sam had a project in Greenwich CT where by coincidence I had been working on
a commission the year before, he thought I would suit the project and we met
with the client who happened to be from Srilanka, so we had a Colombian interior
designer with an English mural artist with a Srilankan client in New York.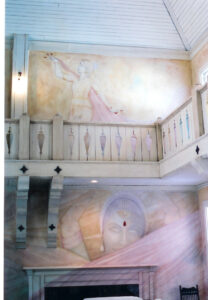 The house in Greenwich was originally the coach house for a large estate and
had enormous doors and the main room was over two floors high, a
spectacularly large space.
Sam's idea was to create a circus feel with clowns painted onto the walls
performing all sorts of tricks, the client felt he would be more at home with
something more akin to his Indian background.
The design ended up with having giant Indian dancers and parts of dancers
figures painted over the wall with a faux finish color wash finish background.
The murals were to be painted in the winter and we had the use of the guest
house and at one point I got snowed in alone with only the deer for company, it
was in many ways my most enjoyable commission, just me, loud music painting
with very large brush strokes on this gigantic canvas.
When the snow had thawed and people managed to get to me they found a
happy bearded artist surrounded by colorful Indian dancers.