29 Sep

The challenges of creating a continuous tessellating pattern for domes in mural painting.

Several times in my career as a mural artist I have come across very difficult design challenges
which could only be resolved by using sophisticated computer programs in the hands of
experienced architects/designers.

Both times were working on creating designs for the inside of domes, especially challenging
when the edge of the inner frame is chamfered as well curved.

In the past to get around these problems Renaissance builders would have built small-scaled
models to work from making it easier to work out any complications at this early stage.

Probably the most complicated dome challenge was when the client wanted to use a design
taken from a book of Ottoman design drawn by a Frenchman in the mid 19th century.

The brief was to use one of these designs but paint it in grisaille(grey and white) to give a
contemporary feel to the Ottoman design.

Having measured the dome, we had to find a solution of how to make a design for a flat surface
work on a diminishing curve and fit proportionally correctly.

The only solution lay in modern technology, I sought out an architect skilled in the use of
auto-cad and other architectural programs and with his help we split the design into eight
segments.

Each segment was printed on the large format to scale and with tracing paper we made
eight cartoons and they joined together within a few centimeters accuracy and the dome could
be painted with its trompe l'oeil Ottoman pattern.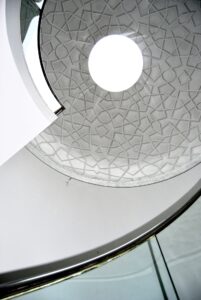 The completed dome  seen from below
The completed dome seen straight on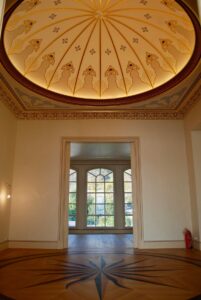 An example of a more traditional dome also completed by our team of mural artists