17 Nov

Murals London 'The Flying Pig'

When I think of the murals that I have painted in London there are a few that stick out.
It is not only the physical experience of painting the mural which can vary but also the
conception.

The conception is the time when the commissioned muralist has to perform, coming up with an
the original idea, usually relying on the requirements of the patron.

Occasionally this is made difficult when the patron has no idea what they want but don't seem positive about anything or have such bizarre ideas that it's difficult to take them seriously.

I had an inquiry from some new clients I had never met before in St.Johns Wood in North
London and arranged to meet them one Saturday morning when they could both be present to
discuss the work.

The house was in a good location not particularly large but modern with a high slanted ceiling in
the living room area, the couple was a youngish Anglo Asian couple very polite but quite
introverted and not immediately forthcoming.

I got the ball rolling and asked them what their interests were and if they had envisaged anything at all for the house, the wife spoke first "well we had thought it might be interesting to have the whole room painted as if we are underwater."

One never says no to a client but the thought of painting the large area as an underwater
the aquarium was apart from the expense a visual crime, "what a great idea" I enthused "it would be
perfect for the guest bathroom" "For now let's investigate other possibilities, is there anything
else that you like".

The husband then joined in "You like pigs " pigs? Anything was better than the underwater scene but what am I going to do with a pig, but I felt it was pigs or nothing.

I mustered all the enthusiasm I could, ahh okay "let's paint the whole room a soft parchment
paper color with specialist paint effect wash, and then we could have a flying pig crashing
through the paper into the room" They both smiled "and he could have a Biggles scarf" the
husband enthused.

That was how the mural of the flying pig originated.
I went on to do another mural for the same couple in the dining room, which I will talk about
another time, although the guest bathroom never got to go underwater.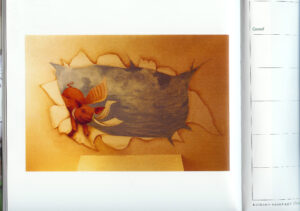 The flying pig mural  was featured in one of The Chelsea Arts Club ' yearbooks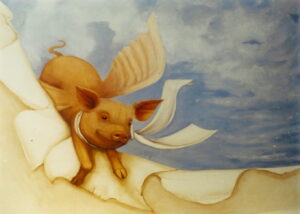 The flying Pig mural, a close up of the flying pig crashing through the paper ceiling of the sitting room.