12 Oct

Murals for Le Relais de Venise l,entrecote

The story of the restaurant Le Relais de Venise L'entrecote begins in Paris 1959 when a french
cook came up with the idea of starting a restaurant which only served one dish which relied on
all the ingredients being perfect, plenty of it and at a good price. She also wanted to buck the
elitist trend of booking tables in advance and introduced first come first serve.

The signature dish was steak with a secret ingredient sauce and Pommes Frites which had been
so perfected the potatoes were sourced exclusively from one town in Belgium.
It was such a success that there were queues all around the block all and every day.

When the restaurant started it was on a budget and the owner offered several poor artists food
in exchange for decorating the restaurant wall with murals.

When eventually 45 years later she agreed to sell the franchise it was on the condition that she
supplied the secret sauce for the steak and not reveal the recipe, also that the future
restaurants were all decorated in the same as the original in Paris.

I was one of the muralists invited to tender to paint the murals with the challenge being to make
them quick and economically so as to get the feel of the original murals.

I went on to paint murals for all four restaurants in the UK and two more for New York.
I really enjoy this project as they are very colorful and vibrant and of course I get to eat in all
the restaurants at a discount and the posters are some of the best I have ever eaten.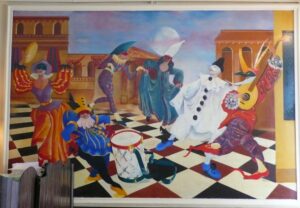 one of the original restaurant murals in Paris
my version for one of the London restaurant  murals