06 Oct

Mural and trompe l'oeil commisions in Istanbul

Mural artists sometimes get commissions abroad which can be some of the most exciting

projects but not without some challenges.

Firstly the materials we use in mural painting are not universal and so a lot of thought has to go

into what materials are available and must be transported within the limited baggage

restrictions.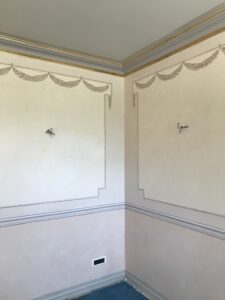 The present commission I am working on is in Istanbul where I have worked previously and the
commission involves firstly the redecoration of the dining room updating and improving the
the previous design which is composed of decorative panels with Trompe l'eoil dedo and wheat
designs in relief.
The colors in each area are created by using faux stippled effects to make interesting
textures and gold leaf is used to highlight specific areas and central focal points, I have yet to
finish all the gold leaf work and will post pictures of the finished dining room at a later date.
Whilst most of the paints are available to paint the murals the specialist glazes to create the
faux finishes have to be imported.