09 Nov

First Commission Istanbul- Richard Bagguley

Life as a muralist has its ups and downs like any profession but I think that life is a tad more
interesting for us artists.

In my London studio one day I got a telephone call from Istanbul from a Turkish designer who
spoke fluent English she outlined a project on one of two large houses recently built overlooking
the Bosporos on the European side in Istanbul.

I did not hear from her for a few months and then I get a call from the actual client, a self
the assured young man who after some discussion invited me to fly out and meet with him.
The meeting went well and there was a lot of specialist decoration to be carried out in the
house, almost 3000 square meters and this needed to be done in a 6 week period with us living
near the location.

The first step was to create samples and work out a structured costing of the different areas,
this I always find difficult in large areas whilst having to be competitive too little means a large
loss.

With the costing and payment structure agreed I got a team of 4 artists, including a mural
artists and specialist decorators for the faux finishes. The types of finishes included trompe l'oeil
on gold, many rooms with faux finishes, marbling, wood graining, stone blocking, stone effects,
graduated washes and a large room with a hand-painted ribbon running around the floor ending
up at a mural painted over gold with many of the client's favorite animals.

The commission was finished a week over time as we had some extra work to do and we were
working 6 days a week flat out but on the back of this work I went on to do many more
commissions in Istanbul.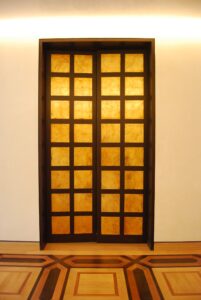 Master bedroom for Mansion on the Bosphorus Istanbul-
A large door with faux finishes, gold leaf squares antiqued, on a black background to give a
a striking contemporary look for the entrance to the master bedroom which was finished in Black
polished plaster.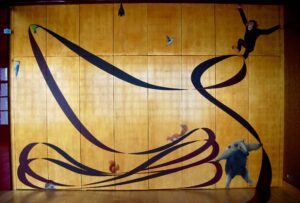 Mural designed for clients specifications for the entertainment area, Mansion on the Bosphorus
Instanbul- A mural on the doors of a hidden bar, the doors were finished in faux gold leaf and then glazed
with specialist varnish before painting the mural designed with the client including animals
playing with the ribbon which also went on to wind round the floor, a clever and playful way of
making the doors more interesting.