17 Aug

Creating a geometric modern mural in Miami

The problem was the luxury waterfront apartment with grand vistas on the 37th floor was terribly
let down by the elevator opening right in front of the air conditioning door.

All the elegance of the portered entrance with waterworks, marble and gold and the trip up in a
slick modern elevator opening into a private corridor and then instead of the beautiful front door
to the apartment, one is confronted with the air conditioning.

This sort of challenge is where us muralists come into our own, my brief was to create
something that hid the door and gave the optical illusion of space, as a modern treatment I went
for a geometric design painted in grisaille using 4 tones of offwhite going into grey.

After some sketches and with client approval and a scaled drawing the mural took two weeks to
paint and both clients and mural artist are very pleased with the result of the commission.
The drawing of the mural with the intended pallet of colors in my sketchbook.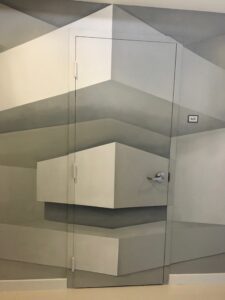 The mural covering the offending door.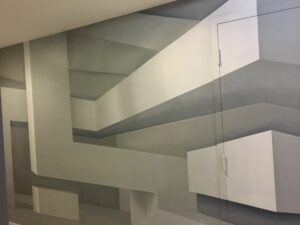 A long shot of the geometric mural creating an illusion of space in a confined area.