16 Feb

Commissioning a mural artist

Murals date back to 30,000 BC from the earliest paintings in the Chauvet cave
France. The largest numbers of paintings are from Egyptian tombs in 3150BC,
Pompeii in 100BC-AD79 and Minoan places 1700-1600BC.

The whole period within which ancient paintings are is known as the Upper Paleolithic times.
Traditionally murals were painted as frescos whereby you paint with pigments
onto fresh lime plaster which when dry painting can last for centuries and the
colors look fresh. Good examples of this work were revealed with the excavations
in Pompeii.

The modern-day muralist does not use these techniques and the two methods
now employed are to paint directly onto a pre-prepared wall or use a method
called marouflage which although being a very old technique has been given a
new lease of life in modern times.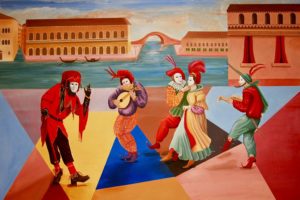 When someone decides they would like a mural painted in their house they
usually have some sort of visual reference, something they have seen which has
inspired them or maybe they would just like a feature wall and would like the
muralist to suggest what might be best.
Either way, it is best to look for a mural painter whose work is best suited to what
you have in mind and looks to be inside your budget. If you want a mural painted
in your children's room that is simple and cartoon-like there is no point in
asking a muralist who paints large classic murals in mansions as he will be over
skilled and probably much more expensive. Also, there is no point in asking a
mural artist who paints children's rooms to paint a grand hallway with a classic
country theme.
When searching to commission a mural artist look at their mural gallery for
examples of work that you can relate to or are in a style that could suit your
home.
On making initial contact try and give the muralist some idea of what you want or
indicate any work of his which you can relate to and also the size of the wall or
a ceiling that you might like painted. This will enable them to have some idea of
how much detail is in it which relates directly to how much time it will take to
paint.
Many mural artists like to give a square meter price which is quite difficult as
each mural is different but a general price can be estimated by looking at previous
similar murals.
I personally have been creating murals for over 30 years and my method is firstly
to work out how long it will take me to do the painting then cross-reference it
with a previous mural and work out the square meter price of that previous work
and see how it tallies.
The next step after the client knows very roughly the cost and that it is within the
the budget they can ask the mural artist to make a scaled sketch from which point a
the firm quotation can be made.
As mentioned murals can be painted directly onto the walls onsite, or use a
method called marouflage. Marouflage is the method of painting on canvas and
then pasting it onto the wall. This method is enjoying something of a renaissance
with the introduction of non-shrinking synthetic canvas which now can be bought
at the same width as the height of the average wall. This enables the muralist to
paint the canvas in his studio and send regular photos or communicate with video
updates with the client. The canvas can then be transported to the location and
pasted onto the wall, the synthetic canvas is smooth and looks like the wall but
any cracking in the plaster is not seen through the canvas.
The other advantage is that the artist does not waste time traveling or living
away from home, and the client may not want the inconvenience of having
someone working in his house for a number of weeks, especially if it is at a time
where there could be health hazards.
Once a quote has been formally accepted the mural artist will probably ask for a
deposit before or when the work starts an interim payment if it is a large work
and a final payment when the work is complete.
The whole experience should, if you find the right muralist, be a fun and creative
one leaving you with something beautiful and unique for your home.