07 Sep

Challenging work for a muralist, creating giant lion murals for London Zoo on the coldest day of the Year

The main difference between an artist and a mural artist is the size and the location.
Someone that paints murals can end up in any location in any type of weather at any height and
on this occasion working next to and almost on top of some big Asian Lions.

Having worked out how to create a plaster/paint microporous system to beat the English weather
which was applied over the existing plinths and erect the scaffolding with lion proof netting, we
we're ready to start the murals.

The day we started to paint the murals it turned out to be the coldest day of the year and us
needed a giant gas blow heater and put up a tarpaulin tent to trap the heat and we still needed
mittens, scarves, and hats.

Even under these conditions, it was an absolutely joyous commission, to be alone in the zoo with
the animals were like spying on the secret life of the zoo, the animals seemed to communicate
and there was a cold stillness about the place, a not to be repeated experience.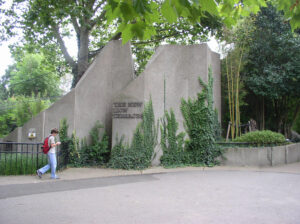 The dated concrete plinths before any work.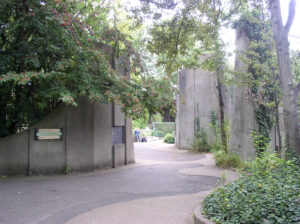 The plinths in the tiger area before any mural work.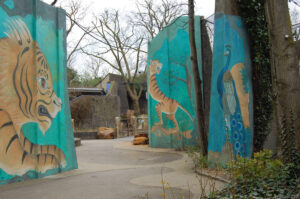 The plinths have been cleaned and partially covered with micro porous plaster and paint, the
murals indicate to the visitors they have arrived in the tiger area, hence the size.