22 Mar

A New type of mural commission.

Normal mural commissions are either painted directly onto the wall or the ceiling in the
commissioning clients' houses or in the studio.

In the case that the work is completed in the studio as I have mentioned in previous blogs it
is painted on prepared synthetic canvas which can be immediately painted over and
attached to the wall or ceiling using the marouflage technique at any location.

When I was approached by a very talented clothing designer with a request to create a
bespoke backdrop with a large baroque-inspired mural although quite excited by the
prospect I had to think about how this could be practically achieved.

I had painted on nonwoven synthetic surfaces before when working with the trompe l'oeil
artist John Pugh in California but this fabric was cleverly engineered to absorb the adhesive
from behind and forma solid weather durable surface.

The problem with that material was that not only is it difficult to source in Europe but it was not developed to be loosely stretched or hang freely from supports.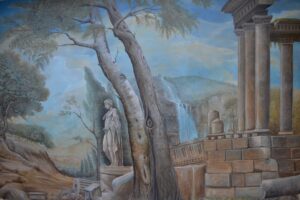 I did some research in the theatre to find out what scenic artists painted large scenic
murals on and found that as well as canvas thick cotton was used to paint on.
Instead of painting on canvas, I managed to source some flame retardant cotton duck fabric
for scenery and backdrop use which came in large sizes specifically for this purpose.
Having successfully stretch it on a frame in the studio which measured 220 cms x 340 cms
I applied two coats of tinted liquid gesso to create a base and close the gaps in the cotton to
give a smooth painting surface.
As a mural artist, I had only used gesso a few times which
was applied more densely by trowel and so using brushes and a roller to apply this more
the liquid solution was trial by error.
Having applied successfully two coats of gesso I need to cover it in a mid-sheen water
based paint to give a less absorbent surface to paint over, I also need to tint in a darker
warmer color to save time creating a classical-looking mural.
After three weeks of painting using acrylic paint the classical baroque styled mural was
finished and after some slow experimentation it was safely taken off its frame and rolled up
ready to appear in photographic shoots as a background mural for fashion wear